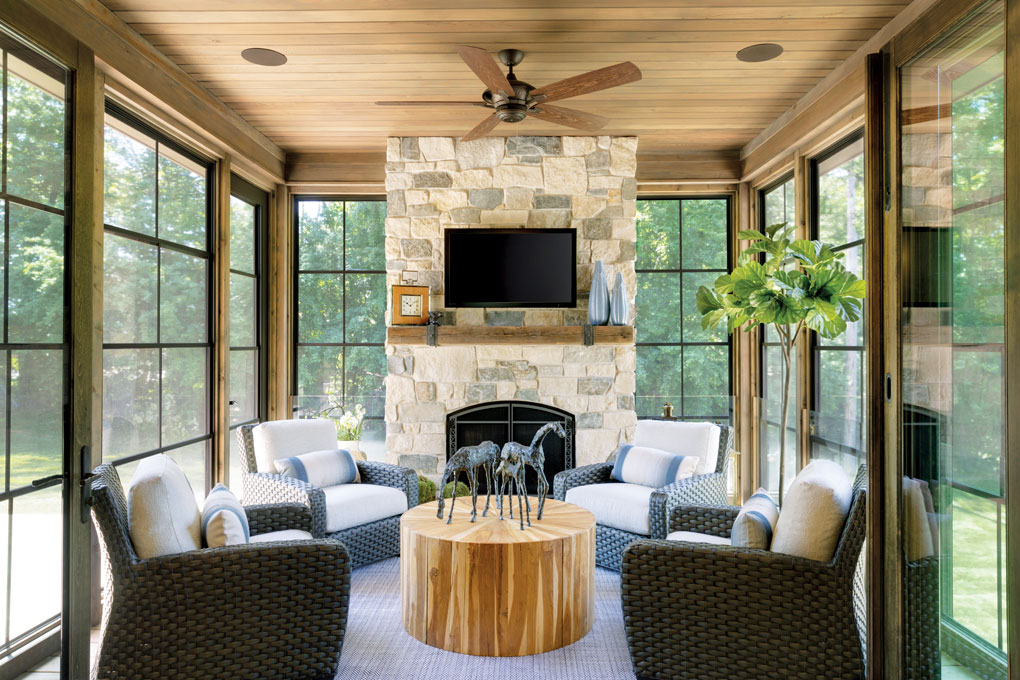 After plenty of unseasonable cold, it seems the heat is on! Finally we can spend long evenings outside, relaxing, and entertaining. Here in Minnesota—where summer brings an all-out war with mosquitoes—the screen porch essential. Plus, overhead coverage and extra protection offer more design flexibility than an open deck.
As a prime entertainment hub and space that bridges both inside and outside, consider a screened room or porch an extension of your home. Thoughtful design can ensure you'll use yours for any occasion.
Five steps to comfort and style:
Invest in comfort. Purchase outdoor furniture that's comfortable and made for lounging. This is a place for evening conversations or morning coffee, both asking for furniture that lets you stay a while. Look for loveseats or other seating that offer versatility. Use stools, ottomans, and outdoor poufs as accessories that also add touches of pattern and texture.
Lighting fit for a dinner party. There's nothing better than candlelight flickering on a summer night. Lanterns can serve as accessories and as beautiful lighting. Cluster them together, and put warm strings of lights or candles inside. Don't be afraid to mix metals and heights on a side table or use taller lanterns right on the floor. Consider a timer to turn on your string lights to add accent lighting each night—even when there's no plan to go outdoors.
Add textiles. From curtains to wall coverings and cushions, include seasonally appropriate textiles that reflect your personal style. Add light gauze panels as "window treatments" bordering the screens, or lightly gather them around columns to instantly add a sense of comfort. Add a personal touch by gathering the panels loosely with chunky rope or colorful strips of fabric tied in a bow. Let them slightly puddle on the floor for a casual, beachy feel.
Dare to color. You'll catch glimpses of the space from indoors, so use color to catch people by surprise and draw them outside. The same interior home rules apply here: Try splashes of color that are easy to convert with the seasons (think throws and pillows). Align a wild card color with your general indoor color palette. For example, if your living room uses light and bright neutrals, try Hale Navy (Benjamin Moore) or Sea Salt (Sherwin Williams) on your screen porch walls. For a more modern space with small bursts of bright colors, go for a tiled floor look by painting the floor in a stenciled or striped pattern, using one or two of your indoor accent colors.
Stay true to your home's style. Reflect your indoor style in this space, and be careful of colors and patterns that would never be allowed inside. Bold, summer-colored furniture might look good now, but will be out of place come fall. If you love displaying vintage pieces inside, add a few to your porch. Hang décor on non-screen walls, just as you would in a room full of windows.
There never seems to be enough porch-worthy days, so spend these moments relaxing in the fresh air in a room you treasure. When the weather turns to fall, I'll guide you through how to take this space into the changing season without abandoning your favorite summer room.
Save
Save
Save
Save