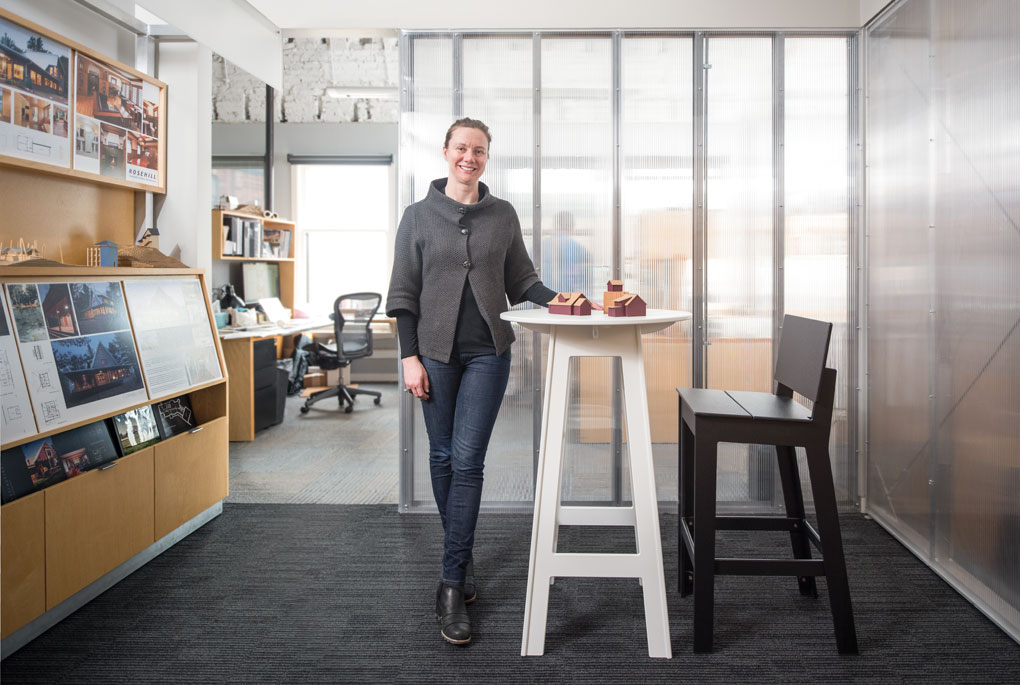 Architect Jody McGuire in SALA's  Minneapolis office. Her work harnesses natural light, uses modest materials, and connects to context. Photo by Chad Holder
Each year, Midwest Home magazine teams up with the American Institute of Architects (AIA) Minnesota to honor two residential architects: an Architect of Distinction, an AIA member and licensed architect who has been practicing for at least 15 years; and an Emerging Talent, an AIA member and licensed architect who has been practicing for 10 years or fewer.
Jody McGuire, AIA, associate architect at SALA Architects in Minneapolis, is the winner of this year's Emerging Talent award.
A long, low house with a kink that, almost imperceptibly, bends the structure along the edge of a Long Island Sound salt marsh; an always-booked Airbnb guesthouse on a granite outcropping next to a pond in Guilford, Connecticut; a multi-story home rising up out of a cliff overlooking Lake Superior on Minnesota's North Shore. With these three residential projects, Audrey Jo (Jody) McGuire, an architect and associate with SALA Architects, Inc., was selected as this year's Emerging Talent.
Simple and modern in their forms, honest in their materials, and created specifically for their unconventional sites, McGuire's projects marry a keen sense of possibility with her considerable expertise. "Right now, so many architects get the tough, tricky sites, as the others are already taken," she says of her propensity for designing singular residences in formidable locations. "Those clients need an architect to figure out how to build there. We have the expertise for the challenges these sites present."
Moreover, McGuire's projects are also the result of a unique approach to collaboration—also challenging, she says, as "a fairly young woman in architecture, which means I have to establish respect, community, and comfort with everyone involved." That includes builders and other contractors unfamiliar with innovative, modern design. The owner of the salt-marsh house put it best, writing of McGuire's "affirmative guidance" in her recommendation letter: "Jody respected [the builder's] expertise, while at the same time giving learned counsel. This alone made the journey successful, non-stressful and ego-free."
McGuire designed this new North Shore home to take advantage of the stunning view of Lake Superior, yet minimize the impact on the site. The expressive form blends the structure with the language of the rock. Photo by Corey Gaffer
Born in Ely, and raised in Dickinson, North Dakota,  McGuire began taking college-level art classes when still a young girl. "I was an only child, so I had to entertain and occupy myself," she says. Her father was a civil engineer; almost all in her mother's family are teachers; her maternal grandfather managed a lumberyard. "If you add up my family portrait, I'm definitely a product of that," McGuire says.
She earned her Master of Architecture at Yale University, then did housing research in Copenhagen, Denmark, and worked in Osaka, Japan. She subsequently worked at Gray Organschi Architecture and Turner Brooks Architects in New Haven, after which she partnered with her husband, Aaron Amosson, on several projects. She returned to the Twin Cities, joining SALA, in 2012. McGuire teaches an architectural design studio at the University of Minnesota, has served on juries for American Institute of Architects award programs, and is helping steward the preservation of Eliel and Eero Saarinen's Christ Church Lutheran in Minneapolis.
Her work embodies modernist ideas by harnessing natural light, using modest materials, and connecting to context—"whether you match it or you don't," she says. "It's a response to how we want to live today, engage with each other inside the house, create more of a sanctuary if you're in the city, create more connections with nature if you're in the country," she says. "It's all situational."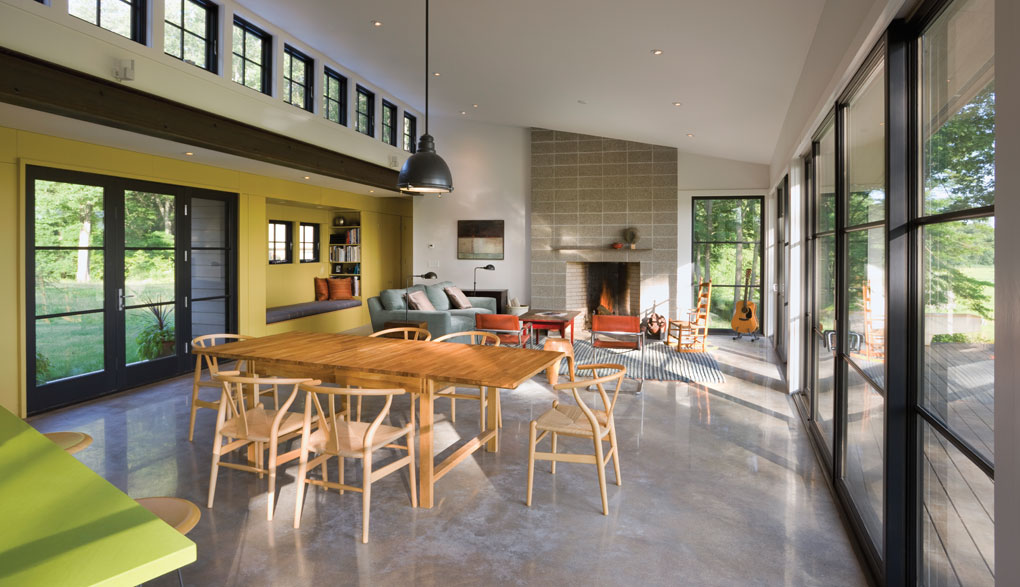 The great room of the small salt-marsh house lives large, thanks to an open floor plan with two twin bed-sized window seats, an office nook tucked behind the kitchen, and a continuous bookcase along the north wall. Photo by Albert Vecerka/Esto
McGuire designed the salt-marsh house, for instance, as "a thin line in the big landscape." The horizontal form bends to create a "hinge point that directs views in multiple directions," she explains, with a round steel column at the hinge subtly separating the kitchen and living/dining areas. The home's black-painted steel structure, concrete-block fireplace, shed roof, sliding glass doors, and clerestory windows result in a sleek, simple, light-filled interior.
The guesthouse was initially imagined as a cabinet for sleeping, as it was designed for cabinetmakers McGuire worked with in New Haven. It grew to incorporate two rooms—a tall living/kitchen space and a compact bedroom. "Nonetheless, it's a complete environment," McGuire says. "The geometry is quite simple, but the plywood ceiling, walls and floors warm up the guesthouse, like a cozy jacket. And the views are very specific, and include the pond overlook through the sliding glass doors on the deck."
On her more recent project, the Lake Superior house, McGuire balanced dense vertical siding on the tower (to correspond with the trees) with horizontal banding on the exterior (to reference the prospect of the lake). High, low, and angled ceilings inside create spatial interest and allude to the landscape. Triple-pane windows and careful detailing provide superior air-tightness, thus marrying sustainable with local.
This 500-square-foot, two-room guest house is clad in opaque stained pine boards, unfinished cement board, and stainless steel panels. Photo by Aaron Amosson
"Every project presents a completely new set of situations to learn about," McGuire says, "and the designer's job is to synthesize that situation into a built answer. That's what makes every project unique." Having just completed a sauna/beer garden with a farmable roof deck near Lake Nokomis, McGuire is now working on a Madeline Island cabin. "They love National Park lodges, but I have a more modern sensibility, so how that will come together is yet to be determined," she says, laughing.
"I hope to continue to bring unique design solutions to varied and unique sets of conditions," she adds. "It's all about getting to know a new piece of the world and how we should be there."
Q&A with Jody McGuire
Where do you typically find inspiration when beginning a house design?
It all starts with the physical context. I look closely at the patterns of the landscape: where the views are, where the sun hits, what the adjacent vegetation and buildings are like. Then I overlay the patterns of daily life: Where do we want to eat? Where do we want to sleep?  From the combination of these patterns, a design scheme will emerge.
What architect do you consider a role model? Why?
Lisa Gray of Gray Organschi Architecture, New Haven. She's an amazing designer and generous friend. Through her example, I learned how to craft a project, demand excellence, and trust my instincts.
To you, what is the most important issue in the practice of residential architecture?
The task of continually expanding the spectrum of who we are and whom we serve. We as a profession need to be evermore inclusive, responsive, and nimble.  
What public building taught you important design lessons?
The Katsura Imperial Villa in Kyoto, Japan. It's a marvelous balance of simplicity and complexity. The material palette is limited and almost plain, but rich in textures and finesse. It is all so dynamic and so peaceful at the same time.
Describe the most valuable lesson you've learned as an architect.
Clear communication is the key to success. Setting expectations, exploring ideas, asking curious questions, forging an inclusive process—it all comes back to the ability and patience to get to clarity and mutual understanding.
By Camille Lefevre